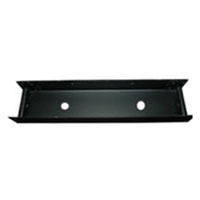 An end cross member assembly for a vehicle, comprising: an upper panel; a pair of lower panels assembled at a lower side of both end portions of the upper panel to form the first box. Also the center lower panel, a middle portion of which is assembled to a lower middle portion of the upper panel.
Moreover its includes and a front side lower arm mounting panel and a rear side lower arm mounting panel that is disposed at a lower front side and a lower rear side of the cross. Member assembly, respectively, and mounted to the both end portions of the upper panel to house a lower arm.
What is a cross member for a vehicle?
It is an essential section of steel, usually boxed, that is bolted through the bottom of a monologue/unibody motor vehicle, mainly, to support the inner combustion engine and / or transmission.
For the suspension of any car to function as it should, for appropriate handling, and to possess the body panels in alignment, the frame has to be solid enough to cope with the loads put on it. It must not deflect, and it has to have enough torsional strength to resist twisting.
Important parts of the cross member for vehicles
Front Bulkhead Comp
The Bulkhead is positioned at the front of the automobile.
Front wheelhouse comp
The Front Wheelhouse is built with the dome-shaped wheelhouse that palls the tires and obstacle space that holds the suspension dampers.
Front Wheelhouse Upper
The Front Wheelhouse Upper Member is welded to the Front Wheelhouse Component.
Rear Frame Comp
The Rear Frame is the frame positioned from the rear seat to the rear bumper. Strength and rigidity are the key components to protect the cabin and fuel tank in the case of a collision.
Rear Wheelhouse Comp
The Rear Wheelhouse supports the pillar, parcel shelf, seat belt harnesses, cargo hooks, and electronic and sound system units.
Floor Frame Comp
The Floor Frame Component runs longitudinally from the front Side Frame and ties into the Center Floor Frame and Inside Sill.
Center Floor Frame
The Center Floor Frame runs longitudinally from the Front Side Frame to the Mid Floor Cross Member. This component, along with the Inside Sill, aids in improving the torsional and bending rigidity which then aids in reducing the noise, vibration, and harshness (NVH) of the vehicle.
Inside Sill
The Inside Sill runs longitudinally from the Front Side Frame to the Rear Frame on the outboard sides of the vehicle.
Floor Tunnel
The Floor Tunnel runs longitudinally from the Front Side Frame to the Mid Floor Cross Member in the center of the vehicle.
Spare Tire Pan
The Spare Tire Pan is located in the rear of the vehicle directly below the trunk cargo area. The main purpose of this part is to house the spare tire.
Qualities of the End Cross Member suppliers
• Accountability for quality issues
• Production capabilities
• Ease of communication
• Cooperation with third-party QC
• Ethical compliance
• Regulatory compliance
• Clear and comprehensive record keeping
• A proactive attitude towards continuous improvement