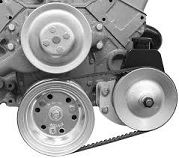 If you have driven a car sans power steering, then you might have understood the importance of the same in the modern driving system. Power steering is what eases your manoeuvring process and lends more comfort to both your passengers and you. It is the power steering which renders you the ability to swerve and keep away from unexpected intruders and obstacles on the roads like careless pedestrians, vehicles, and animals.

Why Do you Need to Protect You Power Steering?
Power Steering serves as a vital role in maintaining the safety and agility of your car. And that implies that you have to depend on power steering. However, you must bear in mind that power steering is not resistant to damage. There are myriad scenarios where your power steering can stop functioning.

Contaminated Fluid
Power steering is a hydraulic system, which means that it puts the power of force pushing on liquids into use to result in motion. Power steering is capable of incorporating a huge amount of force with minimum energy input, hence, proving to be a powerful way to have your car controlled. However, you can only expect a smooth working of this system when only when the hydraulic fuel is clean.
Contaminated hydraulic fuel can lead to wearing down of fittings, clogging the steering, and creating a rise in friction. No wonder, why you must always consider changing your vehicle's power steering fluid as per the manufacturer's manual guide.

Incorrect Fluid Levels
To ensure that your power steering works sans any problem, you must see that an accurate level of fluid passes through it. While too much fluid can lead to collapsed seals and valves, whereas too few fluids would lead to inappropriate pressure being exerted. By replacing the fluid from time to time, you can avoid this issue, but any kinds of leaks can result in fluid loss which would ultimately trigger power steering failure.

Broken Belts
It is the pump powered by the engine, which makes the functioning of the power steering possible, it is because that the engine is connected to the power steering pump, that any kind of breakage, corrosion, fraying, and stretching can lead to immediate shut down of your system. Always consider checking your power steering belt and replace it if you notice any signs of damage, aging, and wearing.

Damaged Steering Pump
The power steering pump is an integral component that is always used, every time you drive your car. While pumps are sold as durable, they can eventually wear out. Exerting too much strain on the pump can lead them to prematurely fail.

Excessive Force
Power steering can resist some imperfect road conditions, comprising of potholes, unexpected bumpers, and or har jolts against your vehicle wheels. There are many steering system components like belts, pumps power steering brackets which can break if you exert too much pressure on it. This is the ultimate reason why you must stay away from rough roads unless you have equipped your vehicles with a steering pump that is exclusively designed to handle all kinds of related obstacles.

Maintaining your Power Steering System
Keeping your power steering system is easier than you have imagined. By safe driving, you can avoid a lot of unsuspected strain on your power steering system and help it run smoothly for several years.
Check your power steering pressures followed by hoses. The power steering fluid in your power steering system undergoes two different hoses; a high-pressure side and a low-pressure side. However, the leaks can form on the other side, so always ensure that there are no leaks on the two hoses.

Choose your power steering exporters from India carefully, to avoid replacing it often or to encounter damage on it. A well-renowned exporter shall always deal with high-end products and shall guarantee you of its durability. By maintaining your power steering regularly and by addressing the issues, you can easily help in the smooth running of the same. Always keep an eye out for the mentioned common issues of power steering. Upon detecting any of the problems, seek help from the professionals and get it resolved as soon as you can.